Sewing Seeds For Spring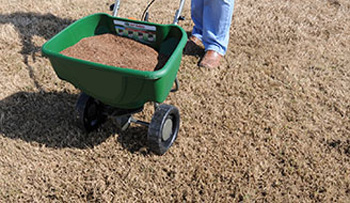 The winter months in the Dallas, Fort Worth area is a roller coaster ride of sorts. The weather can change almost instantly from 80 degrees to below freezing over night. There are however a good number of days that weather will very nice to work outdoors.  Your lawn may not be ready for mowing, but winter lawn seeding now will help your lawn get a head start spring growth.
Dormant seeding is the practice of sowing grass in the winter months when grass seeds are inactive for growth. Seeding can be done during the months of November through February. Its is ideal to plant in February when there is no competing seeds or invasive plants trying to spread and the spring is right around the corner.
Steps to Seeding
Seed your lawn before that final thaw,  and follow these steps to ensure the grass will be green and lush.
Seeds must make direct contact with bare soil.
Rake or till soil before seeding.
Remove debris in the area before seeding.
Follow seed provider instructions for best spread seed coverage. Too much or too little seed is not beneficial.
Lightly rake the surface to cover seeds.
Keep off the lawn. Let the weather cycle of freezing and thawing in the coming weeks will help the seeds set.
Do not use herbicides until after germination has set in.
When spring arrives, mow your new winter lawn when the grass reaches normal mowing height. To maintain your lawn continue to see every six to eight weeks after seeding, for the rest of the season.