The Battle for Your Lawn
These 5 common grass weeds in Texas can sprout up in your lawn as well as your gardens.  While some grass weeds are easier to manage than others, therefore not solutions for these weeds will be the same and might take more time to treat.  If you don't see the weeds in your lawn you can your type of lawn weed here.
Proper Lawn Care Is The Best Remedy
Weeds can overtake a stressed lawn. A few simple steps can protect it.
Watering deeply and infrequently helps your lawn compete by encouraging deeper root growth.
Set your lawn mower higher: Mowing at the proper height, usually one of the 2 highest setting on your mower, helps the grass grow thick to shade weed seeds, so it's harder for them to grow.
Feeding at regularly, like every 6-8 weeks during the growing season with helps your lawn thicken up and fill in bare spots, choking out weeds from your lawn is very effective.
Applying a pre-emergent weed killer in the spring, as this prevent the weed seeds before they germinate.
Too Late for Prevention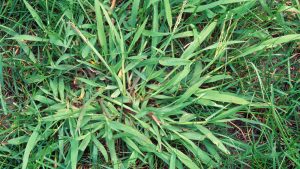 There are many time tested remedies for fighting common grass weeds.  It is your choice if you want to use chemicals, organic or alternative methods of weed control.
Brands like Scotts Weed and Feed or Bayers 3 in 1 Lawn Feed is one method to use on existing weeds, however can be toxic for certain types of grass and the environment.
Good old fashion weed pulling. Either by hand or with a weed tool, pulling weeds is very effective.
For some weeds all you need to do is cover them up with news paper or special cloth materials that eliminates sunlight.  they will die off because with no sun, no creating of nutrients through photosynthesis.  You can also apply mulch to flowerbeds after you pull the weeds. this will prevent the regrowth.
Applying vinegar to weeds with help kill the weed and dry out its roots.  Another method is using boiling water on weed that have taken up or grown in cracks in the your sidewalks or stone pathways.
Even the best maintained lawns come under attack from common grass weeds. Weed seeds are in the wind, creeping weeds claim more territory, and weeds you thought you pulled quietly comeback. How well your lawn adjust with the weeds depends on the type of weeds involved, in addition to the response you choose for your lawn's health. Understanding common lawn weeds and the options available to fight them can help you successfully combat the invasion.  At Lawn Care Flower Mound, we strive in providing the best landscaping service possible.  Call Now for a free custom quote or Estimate.